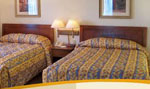 Housing
QBS has extensive experience in housing management. For two different major national associations, QBS has established housing programs that provided a superior level of service to the attendees and to the associations as well.
Housing includes not only the compilation of data, but the management of the room blocks whether it's one hotel or multiple hotels. Our housing experience supports a variety of methods, so it's easy to choose what works best for your attendees. Just another area where QBS puts your needs first and then provides the plan that works for you. Hotel reservations may be received from attendees via mail, fax, website or via the telephone. All methods may be used or select what works best for your group.
Through its proprietary software, QBS can collect the hotel deposit, process the reservation, and send a confirmation to the individaul. QBS manages the reservation process throughout always keeping in mind what your attendees need and what situation the group is in regarding attrition. Prior to the cutoff date, QBS works with attendees to make changes, process cancellations, name changes, etc., keeping this all flowing smoothly to make your job easy. QBS has managed room blocks as small as 25 to major conventions with over 5000 contracted rooms. We have the expertise to make your meetings successful!