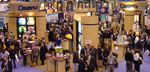 Exhibit Sales and Management
It does make a difference if you work with someone who has experience in all types of exhibit sales and management. QBS has worked with associations on small exhibits (with 15 tabletops) to large shows (with over 1000 booths).
Whether you're bringing in large equipment or working with pop-up displays, the principles are the same, it's important to recognize the differences that will make your exhibit successful!
Exposition management responsiblities include assistance with the development of the budget; developing the marketing and sales pieces; selling and assigning space; on-site floor management; administration of the exhibit rules and regulations, and final follow-up and evaluations.
For a detailed Recap of Responsibilities click here