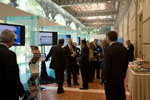 Conference Management
Large or small, select the person to work with you who has the experience to do what you need done. The principals of QBS have experience in all aspects of Conference Managment, including:
Budgeting and Financial Management - QBS will develop detailed budgets for the meeting that support the established financial goals. The budgets will include detailed expense and revenue projections in separate budgets for the meeting and the exposition. These detailed budgets will provide the ground work for setting registration fees and booth rental fees. Major expense categories typically included in a budget are adminstration, audio visual, food and beverage, equipment rental, general contractor, entertainment, evaluations, insurance, marketing, photography, registration, security, signage, and supplies. Additionally, QBS will work to control costs and advise the group of any opportunities to reduce costs.
Timeline - QBS will develop a master timeline listing all deadlines for the successful completion of the meeting.
Site Visits - Working closely with the facility is a major plus in the success of a meeting. QBS will make site visits as necessary to support this concept, as well as meet with the group's committees and staff as necessary to facilitate good communication to ultimately make your meeting successful!
Promotion/Marketing Pieces - The preparation of the promotion and marketing pieces for the meeting are crucial early activities. Whether your group is comfortable with a web-based plan only or a print version, QBS has the experience to prepare the marketing pieces in a useable, attractive presentation.
Food and Beverage - Don't just put eggs and bacon for breakfast in front of everyone! Not unless you know that's exactly what your group wants. QBS will work with you to confirm menu prices, develop menus that support the group's needs regarding nutrition as well as budget; assist with the program development for breakfasts, breaks, luncheon, receptions, and dinners, provide guarantees to the hotel and review and sign off on any invoices prior to presenting to the group for payment.
Speaker Coordination - How much hand holding do your speakers need? It's so unfortunate to put together a fantastic program and then find that your speakers aren't where they are supposed to be or as prepared as they should be. QBS has worked with technical speakers in several different fields, as well as paid speakers in specialty roles or keynote roles. Regardless of the status of the speaker, they are taking their time to prepare a presentation that will encourage attendees to participate in your meeting. What can you do that isn't a cost-added benefit to make them feel more comfortable? Great communication works wonders! QBS can keep in touch with them regularly, assist them with personal needs, make sure they know where and when they are on and what equipment is available. The personal touch helps make your meeting successful!
Contract Services - For as many things as QBS can do, one of the most important is to know what other contractor services are necessary and where to go to get them! QBS will prepare Requests for Proposals for all conference vendors including the solicitation of bids, evaluation of bids, the recommendation to you for the best vendor for your meeting, and the negotiation of the contract. Other vendors could include audio visual services, general service contractors, florists, photography, and temporary help.
Function Manual - About three to four weeks prior to the meeting, QBS will prepare a set of final instructions for the hotel or convention center for the utilitzation of all rooms in the facility. The next step is comparing that document with the resume prepared by the facility and finally a review and sign off of all instructions and/or changes. All these details help make your meeting successful!
On-site Management - Not the least of which in the whole process is the on-site management of the meeting. QBS has provided this service in conjunction with other meetings management services or we've just gone on site and managed the process for a meeting planner who was unable to attend. On-site management includes making sure that all arrangements for the meeting are carried out as planned. QBS wil handle checking rooms, putting out signs, checking rental equipment, counting attendees, collecting tickets, distributing literature, information and being available for last minute changes and troubleshooting which will help make your meeting successful!
Signs - Signage can be an expensive part of the meeting budget, but QBS will review the facility and recommend directional signs for traffic flow and prepare sign copy, as well as coordinate their preparation. Signs become expensive when too much is used and often not used or seen by the attendees. A precise plan on signage helps make your meeting successful!
Meeting Wrap-up - At the conclusion of the meeting, QBS will be sure that all rental equipment is returned; will approve invoices for payment; and meet with the hotel for a post-meeting evaluation. And, importantly, QBS will meet with the group for a post-meeting evaluation. Everyone will have the opportunity to evaluate how the meeting went and what was accomplished, as well as what could be improved. Statistical analysis is an importatant part of that, so depending on QBS's involvement, reports will be prepared in all areas - each adding to help make your meeting successful!